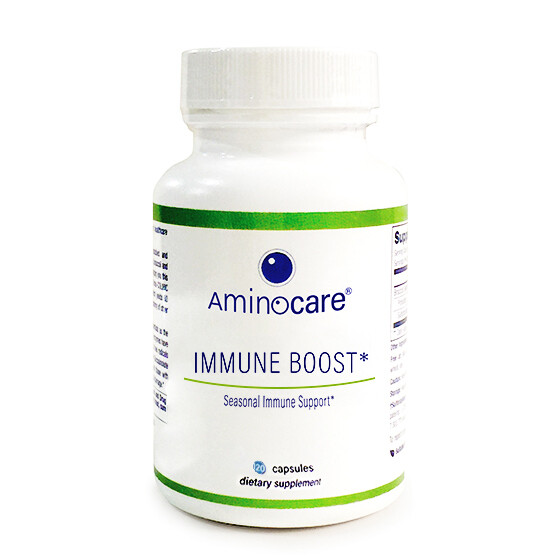 AMINOCARE ® IMMUNE BOOST
SKU AMI-IMM-BOO
Product Details
AMINOCARE ® IMMUNE BOOST
PRODUCT DETAILS
ADRENAL IMMUNE BOOST is an advanced, broad-spectrum nutritional formula providing comprehensive support for seasonal environmental challenges.* The select nutrients in this formula - Vitamin C, Vitamin D3, and Zinc - have been chosen for their synergistic ability to support the body's immune response.*
Key ingredients in Immune Boost include Quercetin, Bromelain and Nettle Extract, which have been found to help promote healthy mucus viscosity and provide histamine support.* Additionally, N-Acetyl L-Cycsteine (NAC) is included in this formula as a powerful free radical scavenger.* NAC is also an amino acid precursor to glutathione, one of the most important antioxidants in the body.*
*Information and statements regarding dietary supplements have not been evaluated by the Food and Drug Administration and are not intended to diagnose, treat, cure, or prevent any disease. You should consult with a healthcare professional before starting any diet, exercise or supplementation program, before taking any medication, or if you have or suspect you might have a health problem. You should also not stop taking any medication without first consulting your physician.

INGREDIENTS AND DOSAGE
Serving Size: 4 capsules.
Servings per container: 30
Suggested use: 4 capsulse once daily.
INGREDIENTS
Amount per Serving
% Daily Value
Vitamin C
200 mg
222%
Vitamin D3 (as cholecalciferol) (1000 IU)
25 mcg
125%
Zinc (as zinc methionate)
25 mg
227%
Queretin Dihydrate 98%
500 mg
**
Boswellia serrata (resin) extract (65% boswelic acids)
300 mg
**
Nettle (Urtia dioica) (root) extract (4:1)
300 mg
**
N-Acetyl L-Cysteine (NAC)
250 mg
**
Lemon bioflavonoids (Citrus limonum)
222 mg
**
Bromelain (2,400 GDU/g)
200 mg
**
Grape (Vitis vinifera) (seed) extract (95% proanthocyanidins)
20 mg
**
Betaine (as betaine hydrochloride)
15 mg
**
Other Ingredients: HPMC (vegetable capsule), MCC (microcrystalline cellulose,silicon dioxide.
Gluten free, vegetable capsule. Free of: milk, eggs, fish, shellfish, tree nuts, peanuts, wheat, soy.

** Daily Value not established.
Save this product for later