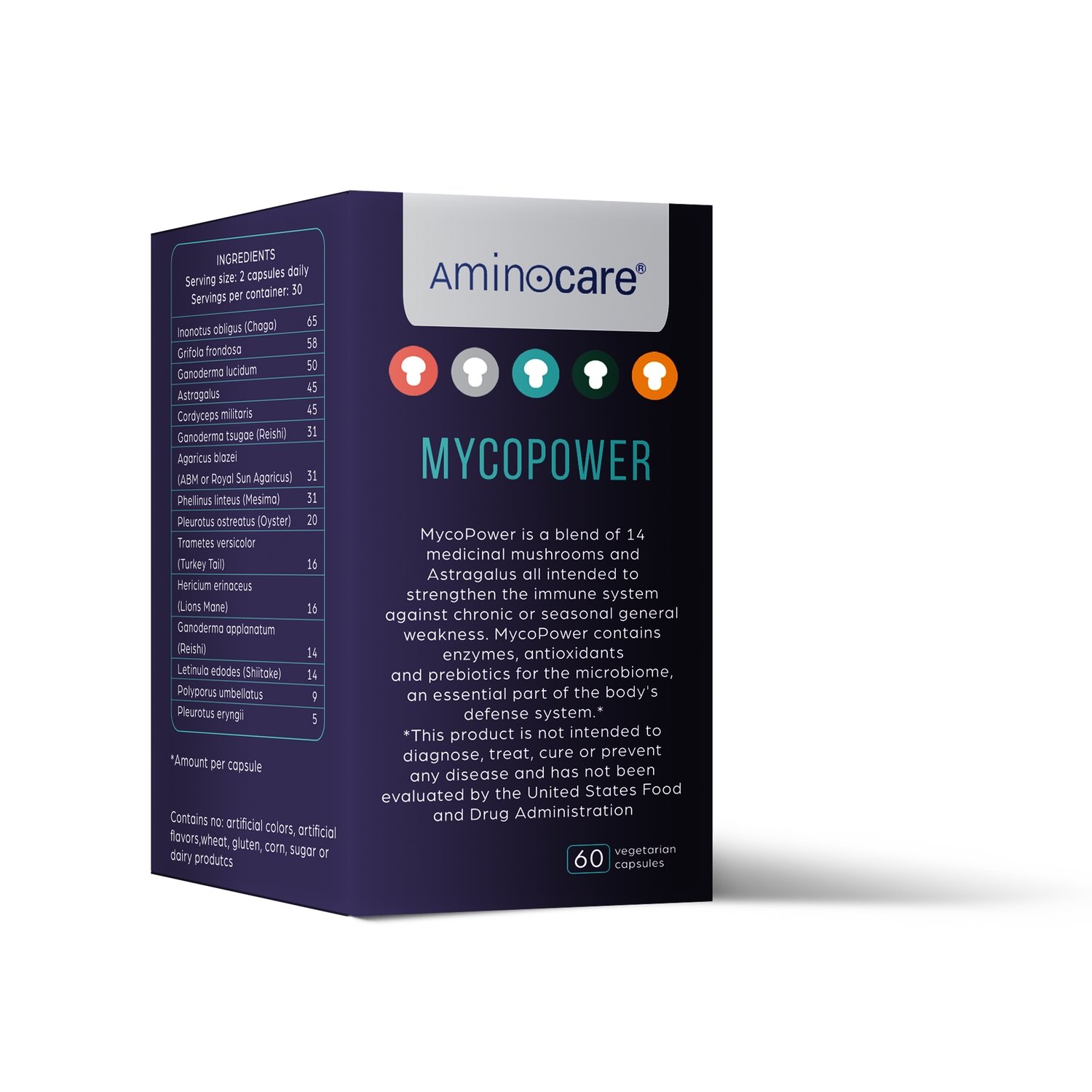 AMINOCARE ® MYCOPOWER
SKU AMI-MYCO
Product Details
AMINOCARE ® MYCOPOWER


PRODUCT DETAILS
MYCOPOWER is a blend of 14 medicinal mushrooms and Astragalus all intended to strengthen the immune system against chronic or seasonal general weakness. MYCOPOWER contains enzymes, antioxidants and prebiotics for the microbiome, an essential part of the body's defense system.
*Information and statements regarding dietary supplements have not been evaluated by the Food and Drug Administration and are not intended to diagnose, treat, cure, or prevent any disease. You should consult with a healthcare professional before starting any diet, exercise or supplementation program, before taking any medication, or if you have or suspect you might have a health problem. You should also not stop taking any medication without first consulting your physician.

INGREDIENTS AND DOSAGE
Serving Size: 2 capsules
Servings per container: 30
Suggested use: 2 capsules daily.
INGREDIENTS
Amount per Serving
% Daily Value
Inonotus obligus (Chaga)
65 mg
**
Grifola frondosa
58 mg
**
Ganoderma lucidum
50 mg
**
Astralgus
45 mg
**
Crodyceps militaris
45 mg
**
Ganoderma tsugae (Reishi)
31 mg
**
Agaricus blazei
31 mg
**
Phellinus linteus (Mesima)
31 mg
**
Pleurotus ostreatus (Oyster)
20 mg
**
Trametes versicolor (Turkey Tail)
16 mg
**
Hericum erinaceus (Lions Mane)
16 mg
**
Ganoderma applanatum (Reishi)
14 mg
**
Letinula edodes (Shiitake)
14 mg
**
Polyporous umbellatus
9 mg
**
Pleurotus eryngii
5 mg
**
Other Ingredients: HPMC (vegetable capsule), MCC (microcystalline cellulose).
Contains no:artificial colors, flavors, wheat, gluten, corn, sugar or dairy products.

** Daily Value not established.

Save this product for later